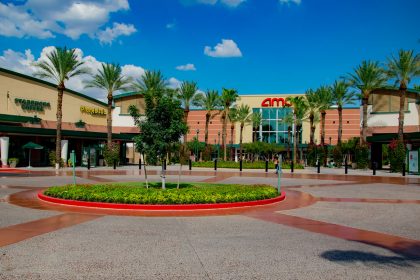 MESA ARIZONA – DSW Mesa Grand/Spectrum acquired Mesa Grand and Mesa Spectrum shopping centers located on Stapley and Baseline Roads at US Highway 60 in Mesa, Arizona for $42.9 Million from Vestar Arizona LLC.
Tucson based DSW Commercial Real Estate with investment partner Iridius Capital, purchased the well-positioned "Daily Use and Entertainment" center, which encompasses approximately 233,130 square feet junior anchor, retail strip, and single tenant net lease in a multi-building configuration.
The seller, Vestar, developed the approximately 52 acre site in phases with an outstanding tenant line up including: Petco, Michael's, Office Max, Party City, Conn's, Sprint, Chili's, Starbucks and Texas Roadhouse.
The freeway prominence from US Highway 60 coupled with the visibility from Stapley and Baseline Roads benefit this center significantly. Additionally, eight ingress/egress points along with the two signalized intersections allow for generous traffic flow. Mesa Grand/Spectrum offers a diverse shopping and entertainment experience for the over 400,000 people living within 5 miles.
Ryan Schubert and Michael Hackett of Cushman and Wakefield handled the disposition for the sellers, and Michael Sarabia and James Hardman of DSW Commercial Real Estate represented DSW Mesa Grand/Spectrum. Tim Storey with Newmark Realty Capital assisted with the financing. Sukrit Seghal, Iridius Capital, raised equity for the acquisition.
Michael Sarabia, manager of DSW Mesa Grand/Spectrum, states "when looking at submarkets we take into consideration several mitigating factors such as household income, growing population, quality of building, tenant mix, term of leases and strategic location of asset. Vestar has been able to develop on high profile sites with signature projects securing best in class locations, we were pleased to be able to work with them on this acquisition."
The acquisition is part of DSW Commercial Real Estate's strategic platform since localizing the operations to Arizona, putting acquisition volume at $90 Million in the last 10 months. DSW Commercial Real Estate has over 1 Million sf commercial real estate under management.