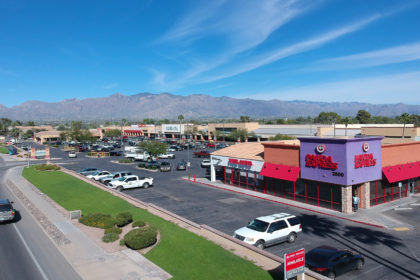 TUCSON, ARIZONA – DSW Commercial Real Estate announced that it has purchased. Campbell Plaza shopping center for $33 million with its partners at Iridius Capital and JCR Capital.
Campbell Plaza is a 190,022 sq. ft. grocery-anchored mixed-use center and is . considered a core-plus asset. The shopping center is strategically located along Campbell Avenue, a major arterial route in Tucson's central corridor. CampbellPlaza benefits from its proximity to the University of Arizona, Banner University Medical Center, surrounding businesses, and densely populated residential neighborhoods. Campbell Plaza has been an integral part of Tucson's retail landscape since 1960. Michael Sarabia, managing director of DSW stated, "This established community center offers a full spectrum of daily amenities including grocery, apparel and home improvement stores and a wide variety of restaurants." Partner James Hardman added "The plaza has nine entry and exit points and street frontage on Campbell Avenue that give it excellent accessibility and visibility."
Mark Lucescu of Lucescu Realty represented the seller, The Krausz Companies. James Hardman of DSW Commercial Real Estate represented the buyer. Tim Storey of Newmark Realty Capital secured the equity and debt financing for the acquisition.The acquisition of the retail center is a continuation of DSW Commercial Real Estate and Iridius Capitals' investment platform, where they've grown their total partnered portfolio to $125 million since 2016.
DSW will provide property management services to the center, adding it to their portfolio of over 1 million sq. ft. ofcommercial real estate space under management. About DSW Commercial In 2016, Michael Sarabia and James Hardman negotiated the purchase of the operating platform for DSW Commercial Real Estate from the DESCO Group to continue to develop and invest in commercial real estate and operate the property management and brokerage business independent from the DESCO Group. Since that time, DSW has invested in nearly $125 million dollars of commercial real estate. Currently DSW manages over one million square feet of office, medical and retail real estate and is currently developing a number of office, medical and retail centers. Today DSW Commercial Real Estate continues to pursue its acquisition platform, operating with the optimum balance of experience and ingenuity. For more information, visit dswcommercial.com.
About Iridius Capital: Iridius Capital is a real estate company that partners with real estate developers and asset managers to capitalize real estate projects across all asset classes including retail, multifamily, office and hospitality. Iridius Capital uses a variety of debt and equity structures to meet investor goals for risk, reward and liquidity.
About JCR Capital: JCR Capital is an alternative investment manager that provides capital solutions to middle market commercial real estate sponsors. Investing on behalf of insurance companies, public pension funds, endowments, foundations, family offices and high-net worth individuals, JCR Capital provides joint venture equity, preferred equity,
mezzanine debt and senior debt for commercial real estate transactions across the U.S. For more information, visit jcrcapital.com.